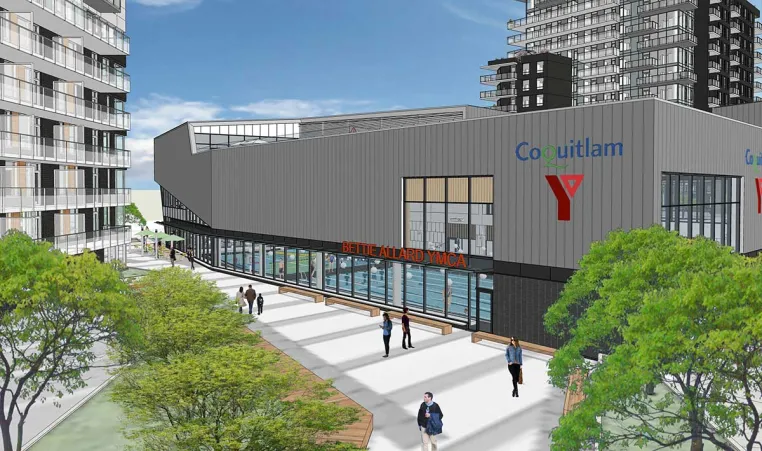 September 18, 2021, Coquitlam, BC — Completion of the new Coquitlam YMCA is only one-year out. The name for the centre, recognizing the contributions of a community educator with ties to the Burquitlam area, will be announced at a One Year Out event at the construction site on September 18th to celebrate YMCA volunteers, donors and partners for this tremendous milestone.  
The YMCA is proud to partner with the City of Coquitlam and Concert to build a new centre of community for children, families, teens, adults and seniors to enjoy for many generations to come. This unique project is a part of the new Burquitlam neighbourhood that will bring an expanded Cottonwood Park, a Park-and-Ride, a Community Police Station and more housing options to Burquitlam in addition to the new YMCA. 
Opening in fall 2022, this 55,000 square-foot modern centre of community will be visited a million times a year as more than 16,000 children, teens, adults and seniors find opportunities to be healthy, connected and engaged. 
"Construction for the new centre of community in Coquitlam is well underway. A little over a year from now, this Y will have swim lessons for children, mental wellness groups for teens, fitness classes for seniors, English language classes and social groups for Canadian newcomers, and affordable childcare for all kinds of families," says YMCA of Greater Vancouver President and CEO Stephen Butz. 
The Coquitlam YMCA is well-situated near the corner of North Road and Como Lake Avenue at 555 Emerson Street and just 400 metres from the Burquitlam Skytrain Station. The facility will join other YMCA programs currently offered in the community including Child Care Resource & Referral, YMCA Healthy Heart (cardiac rehabilitation program), the Alderson YMCA Kids Club, Little Scholars YMCA Child Care, YMCA Alternative Suspension (educational program for youth at-risk of suspension or leaving school) and YMCA day camps at Mundy Park and Blue Mountain Park. 
The Coquitlam YMCA includes carefully designed spaces to deliver a wide range of YMCA programs and services. These spaces are safe, inviting, accessible and vital community gathering spaces where everyone can come together to connect and grow. 
Active Living: Get moving in a wide range of group and self-directed ways using the gymnasium, walking track, fitness studios for group classes (like yoga and cycle fit) and strength and conditioning zones.  

Aquatics: Learn critical water safety skills, exercise and have fun. Features include a swimming pool for exercise and a warm water tank for family play, swim lessons, therapy and fitness.  

Social Connection: Throughout the YMCA, you'll find places to connect with others including a café, plazas and rooftop terraces.  

Family-Focus: A dedicated Family Development Centre and 'Y Play' area provide opportunities to play, learn and strengthen relationships. 
"It's exciting to see this long-planned community revitalization project underway," said Coquitlam Mayor Richard Stewart. "The YMCA is perfectly positioned to partner with the City of Coquitlam, building on its local programs and partnerships to bring this modern facility and quality programs and services to people living in our community." 
The One Year Out and building naming event on September 18th marks the start of the public phase of the YMCA of Greater Vancouver's What Really Matters Now Capital Campaign. The campaign aims to raise $25 million. We are at 85% to goal, but we still need help from the community to get to the finish line. Donate to help the Y serve the Tri-Cities area at whatreallymatters.ymca.ca/donate. 
The YMCA of Greater Vancouver recently received a $3 million donation, the largest individual gift so far to the What Really Matters Now capital campaign focused on bringing new centres of community to underserved areas in the Lower Mainland and Fraser Valley. 
"I am so moved by the support of donors here in the Tri-Cities," says What Really Matters Coquitlam Chair Tracy Price." I am joined by an incredible team of volunteers. We thank our current donors and ask new ones to join us in the public phase of the capital campaign. Together we are building a centre of community that will serve Tri-Cities residents for generations to come." 
Information on Bettie Allard  
The transformational donation to the What Really Matters Now capital campaign came from the family of Bettie Allard, the late mother of supporter Peter Allard. Bettie passed away in 2004. She was a passionate educator and community volunteer who taught at Rosser Elementary and Confederation Park Elementary. The Bettie Allard YMCA recognizes her contributions as an educator and community builder in the Burnaby area and beyond. 
YMCA of Greater Vancouver President and CEO Stephen Butz said, "the new Coquitlam YMCA Centre was a particularly appropriate choice to honor Bettie Allard's legacy because like us, she was committed to youth, education and building healthy communities. Her forward thinking approach to leading an active life and protecting the environment were ahead of her time." 
This will be an historic first for YMCA Canada. Bettie Allard will be the first woman to have a YMCA health and fitness facility solely named after her (though women have been part of couples who've had facilities named after them). 
"During her career, Bettie was a passionate and effective advocate for the role of community in helping people reach their potential and thrive. It is fitting that her legacy be associated with a building that so visibly links the community, its children, families and seniors to each other and the broader community. As an educator, volunteer, active outdoorswoman, mother and grandmother she impacted so many lives. It is an honour to attach the name of Bettie Allard to this new YMCA centre," Butz said. 
"Our family is honoured by this recognition," Peter Allard said, "and I am particularly pleased that my mother's name will be associated with a centre that will act as a social hub, bringing people together and helping them reach their potential. The Y's sustainable charity model will enable the Bettie Allard YMCA to consistently deliver vital services to the community for current and future generations." 
About Effie "Bettie" Allard, 1915-2004 
Bettie greatly enriched the lives of her family and friends. She raised four children as a single mother in the 1950's in Vancouver. As Bettie's children grew older she decided to further her education at the University of British Columbia to support her family. Graduating in Education with a major in Librarianship, she went on to teach for many years at schools in the Burnaby area including Rosser Elementary School and Confederation Park Elementary School. 
As a young woman, Bettie was very active in sports including ice hockey and enjoyed outdoor adventures with her canoe and many friends. Bettie was decades ahead of her time with her concern for a sustainable environment. Bettie dedicated many hours each week to volunteer work throughout her life including the Brock House, Vancouver Planetarium and Vancouver Aquarium. She also travelled the world with her friends. She loved to spend time gardening and cooking for her family. Bettie greatly enjoyed her later years and was happiest doing what she loved most; cooking, traveling, volunteering and spending time with her family, friends and grandchildren.