Learn How to Manage Stress and Anxiety
Want to learn proven and effective coping strategies for mild-to-moderate anxiety or stress? Join the YMCA's Y Mind Adult program. It is a FREE online mental wellness program for people ages 31+. The program runs for seven weeks and is delivered by YMCA BC (Greater Vancouver region). 
Want to learn more or register? Fill out the form below and someone from our team will get back to you soon.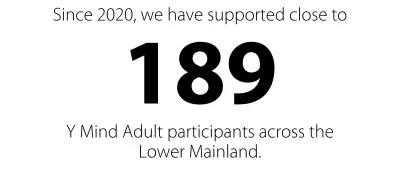 Program Details:
Free, seven-week mental wellness program for adults experiencing mild-to-moderate stress & anxiety.

Learn proven coping skills and meet peers who are experiencing similar thoughts and feelings.

Each session is 2.5 hours long and is offered one evening a week, for seven weeks.

Must be available to attend all seven sessions.

Attendance at one virtual information session is required to sign up.
WHO

Ages 31+

Experiencing stress or mild-to-moderate anxiety

Residents of the Lower Mainland, but is open to other BC residents when space allows
WHEN

Our next Y Mind Adult groups will be offered in fall 2023:

Monday, October 16, 2023 to Monday, December 4, 2023 from 6:00 p.m. to 8:30 p.m.

Tuesday, October 17, 2023 to Tuesday, December 5, 2023 from 6:00 p.m. to 8:30 p.m.

Length: seven-week program

Time commitment: 

2.5 hours one evening a week for seven weeks
WHERE

Our fall 2023 Y Mind Adult mental wellness groups will be held online via Zoom.
PARTICIPANT TESTIMONIAL
"I was feeling terrible about myself and life. I thought I had anxiety but knew very little about it. Now, I have more awareness about anxiety and mental health, and learned about tools to deal with emotions and thoughts. I feel more positive and compassionate toward myself. Now, I understand that anxiety is part of life [and] that I shouldn't be ashamed. I feel I can overcome or learn to experience a richer life."
- Past Y Mind Adult Participant
The Y Mind program is also offered to all ages 13+. 
Learn About YMCA Mental Wellness Programs